Luke Prokop is getting a lot of action with Team Canada this summer.
When he put on the Team White jersey for the first time last week during the National Under-17 Developmental Camp, it marked the second time he suited up for his country in the past month.
Prokop was part of the Canada West squad with the Canadian Ball Hockey Association at the International Street and Ball Hockey Federation's World Cup Prerov June 28 to July 1 from Zlin, Czech Republic.
The Canada West unit, captained by Prokop, won the gold medal on Canada Day with a 3-1 victory over Team Slovakia.
What a feeling! World champs! Thanks to @CanBallHockey for the ability to play in the Czech Republic. Thanks to my coaches and teammates for pushing me throughout the tournament. Logan Schatz this is for you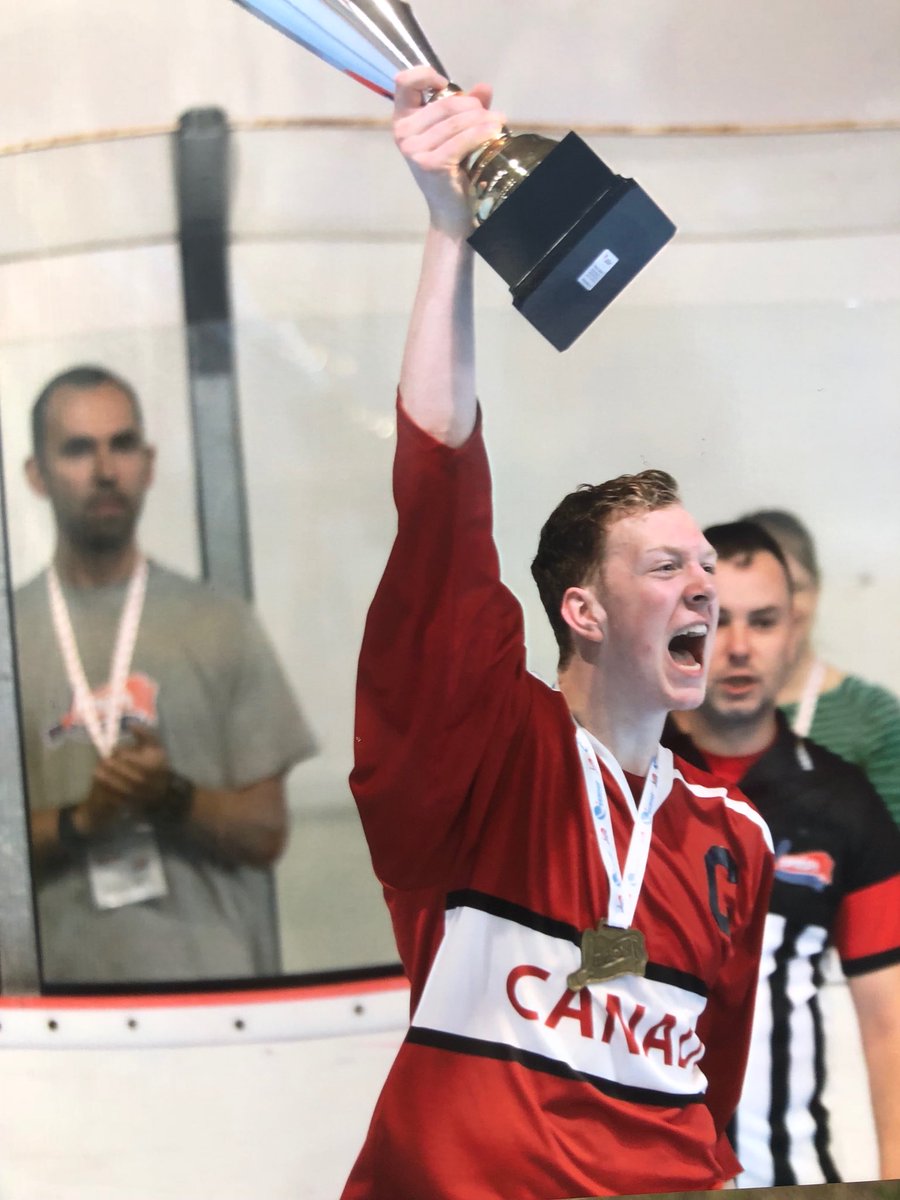 "Last year I played with a couple buddies and we went to nationals. From there, they chose some players to play in worlds," said Prokop.
After the final buzzer went and the dog piles diluted, the Canadian players circled around centre ice with the trophy, for a moment of silence for their fallen teammate, Logan Schatz, who was one of casualties of the Humboldt Broncos tragedy.
A memorable tournament for many reasons; one of which being Prokop's offensive contribution to the team, as he pounded home a pair of goals and added an assist from the back end.
"The tournament was such a great experience. Anytime you get to play for Canada at any level, it's always a great time. It was great to go and see a different part of the world and play some pretty good hockey," said Prokop.
A few weeks later once the jet lag subsided, Prokop found himself preparing for another trip with the national team.
"Earlier in the summer I was just watching TV downstairs when I got the call from Team Canada inviting me to this camp. I blasted up stairs to tell my parents the great news. I was honoured to be invited to the camp," said Prokop.
Prokop can thank the national program and more specifically the World Junior Championship for allowing him to get some extra looks at the Western Hockey League level.
"I think that experience (in the WHL) really helped our decision to bring him in. When kids are able to get minutes with the WHL or any other CHL teams, you can see the confidence they get from being around their peers. When they come to a camp like this, having that is important. These camps can be a little intimidating with having the top 112 players from the country come into the same environment. You need to have the confidence that you're a good player and he certainly has that," said Hockey Canada Program of Excellence Head Scout Brad McEwen.
The Calgary Hitmen saw their two pillars on the back end get whisked away for the World Junior Championship in Jake Bean (Team Canada) and Vladislav Yeryomenko (Team Belarus).
At that time, the Hitmen were also dealing with injuries to their back end. Drea Esposito was working his way back from a concussion and Andrew Viggars was still a few weeks away from his broken hand healing.
The Hitmen were granted a special exception to call up then 15-year-old Luke Prokop for an extended period of time to help plug some holes in the defensive corps.
Prokop was somewhat familiar with the club, he stayed with the team through the majority of training camp before eventually getting reassigned to the Northern Alberta X-Treme Prep program.
Upon returning to Calgary, Prokop hung around for 14 games, blowing past the league limit for 15-year-olds. He recorded two assists in those outings.
"Those 14 games helped a lot. Just to play with the pace at that level was great. It really helped me get ready for this camp now that I'm here with the other 111 top players in the country. These practices and games are played at a faster pace and you have to make quick decisions," said Prokop. "Those few weeks with the Hitmen definitely helped me out."
Playing in the WHL with and against players that were five years older than him gave him the confidence to mesh with other top players from across Canada in the same dressing room like Jake Neighbours, Mavrik Bourque and Cole Perfetti.
Meeting his new teammates before the first practice July 22 at WinSport Arena, Prokop participated in eight practices with his unit before suiting up in three games.
The week's worth of practices was a real eye opener for the 6-foot-3 Edmonton product.
"The amount of preparation and organization put in by the Team Canada staff has been amazing. Everything is organized for us all week and we take a lot of information in. Things like proper nutrition, rest and recovery, practice with the media are all things we have learned this week," said Prokop. "The biggest thing that they stressed was that they want us to be respectful and not to make the brand look bad. They take pride in us and they want to make sure we do things proper here."
After all the hard work put in earlier in the week, Team White hit the ice July 25 and picked up a 4-2 win over Team Blue.
In White's only loss of the tourney the following day, Prokop picked up his only point of the tournament when he assisted on Neighbours' snipe in the second period. White fell 3-1 to Team Black.
White closed out the week with a 4-2 doubling of Team Green on the final day of competition and finished tied with three other teams with a 2-1 record.
"I thought Luke had a real good week. He's a tall, lengthy defender, plays well defensively and is capable of moving pucks up the ice. It's nice to have a lengthy guy that we certainly value in our program," said McEwen. "Luke got better everyday and that's something we stress here. We want the guys to control to what they can control, listen to the coaches and be accepting and enthusiastic about the program and I thought he did just that."
Prokop has since returned to Edmonton where he is training and waiting for Hitmen camp to open at the end of the month, unsure with whether or not his older brother Josh will join him at camp.
"I want to make (the Hitmen) this year out of camp and I want to prove I can play at that level. I think my experience last year with the team and now this camp has helped me and I'm ready to prove at camp," said Prokop.
This journey for Prokop is a familiar one for Hitmen fans, as Jackson van de Leest  — ball hockey aside — went through the same process last year;  called up as a 15-year-old, participated with the U17s and played up until his season-ending injury with the Hitmen.
If Prokop follows in van de Leest's footsteps, the Hitmen could have another two nationally recognized defensive pillars anchoring their back end for many years to come.