When Dylan Plouffe landed in Medicine Hat in early December, his arrival instantly added a veteran presence to a young and improving blueline brigade.
Plouffe, 20, is from Sherwood Park and was acquired by the Tigers in a trade with the Vancouver Giants December 7. He spent four-and-a-half seasons on the west coast and appeared in 301 games with the Giants.
The deal was announced early that Saturday morning. Plouffe, who arrived in time to suit up against the Everett Silvertips that evening, had been in the Vancouver lineup the night before as the Giants dropped a 2-1 decision to the Spokane Chiefs in Langley.
Although only ten games into his new digs in the Gas City, Plouffe admits it has been quite an interesting adjustment so far.
"Like I said a couple times to my teammates in there, it's a totally opposite system from what I'm used to," Plouffe said. "The time I was in Vancouver, it was a very defensive game where you kind of waited for your opportunities.
"In here, it's a very fun, fast game that's run-and-gun and you get your opportunities very fast. I'm super excited to be here and I'm getting adjusted to the group here. I'm really happy about it."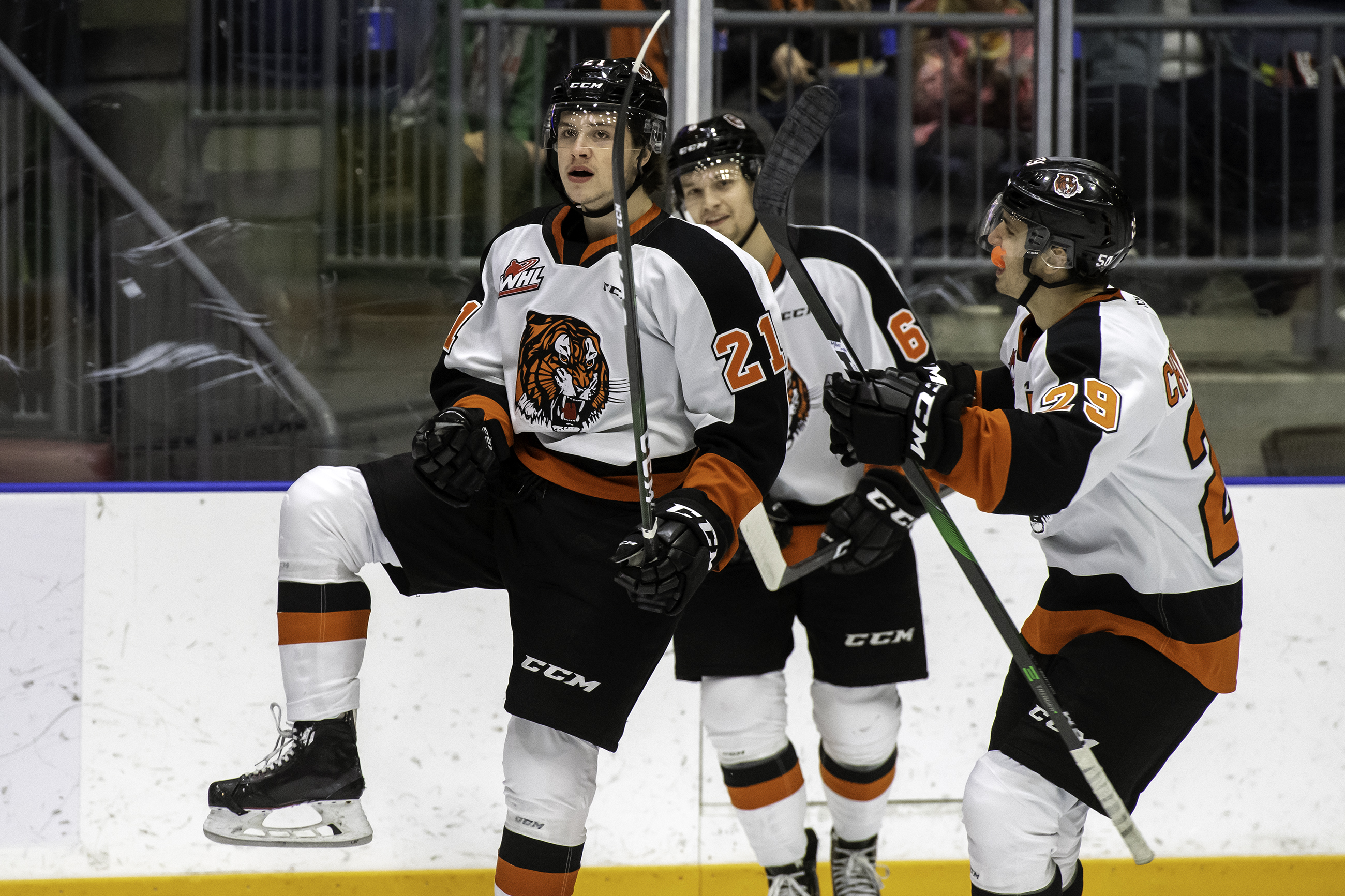 DUBNetwork spoke with Plouffe last Friday following the Tigers 5-2 victory over the Calgary Hitmen. It was the fifth meeting of the season between the teams, with the home team winning each time. The Central Division rivals played three times immediately after the holiday break in the regular season schedule.
"This is huge for us," Plouffe said of the win. "Coming into this week, I thought of it as a mini-playoff series, being at home, going there and then coming back here.
"You always want to have tight, close games against those divisional rivals because those are ultimately four-point games when it comes into the standings. So, it was it was tight-checking throughout the whole three games and I'm happy the way we played tonight. It was a good showing for us."
The Tigers (25-11-1-1) continue to battle for top spot in the Central Division, but the Edmonton Oil Kings (27-7-5-2) are beginning to distance themselves from the pack. The Lethbridge Hurricanes are a point ahead of the Tigers for second place, though Medicine Hat has a better winning percentage.
The Tigers have two games in hand on the Hurricanes. Medicine Hat plays those two contests in Manitoba this week – Tuesday in Brandon against the Wheat Kings and Wednesday against the Winnipeg ICE.
The Tigers have hosted both Brandon and Winnipeg this season, dropping a 4-0 decision to the Wheaties and earning a 5-2 win over the ICE.
For Plouffe, it will be the second time this season he'll play in the Western Hockey League's two Manitoba locales, having traveled through the East Division back in October with the Giants.
The veteran defenceman is still getting used to the pace with which the Tigers want to play, but he appears to be a quick study. With five points in his 10 games with the Tigers so far, Plouffe has taken over the team lead in scoring among Tigers defenceman, just edging past 18-year-old Daniel Baker.
"Yeah, it's a fun team to play with," Plouffe said of the Tigers. "It reminds me a lot of the team I played with last year in Vancouver, which was very fast.
"It seems to me like these guys have abundant amounts of skill and it's really fun to play with. Every line you're out there with, it seems like scoring opportunities come available."
Plouffe will also bring valuable playoff experience to the Tigers as he winds down his WHL career. Last season, the Giants won the western conference and battled back in the league championship final series after being down three games to one. The Prince Albert Raiders went on to claim the Ed Chynoweth trophy with an overtime win in game seven.
"It was really fun," Plouffe said of his time in Vancouver. "I gained so many friends that I'm gonna have for years on end till the day I die.
"That team last year was very different, we had so many 19-year-olds. I saw a lot of things change this year, then a big change came for me.
"But I'm welcoming it with open arms. This being my last half-season of my junior career, I'm gonna take as much as I can out of this and push with this team so I can get to the point we got to last year in Vancouver.
"I just hope this year we can score one more goal!"
Many in the Tigers dressing room feel they have unfinished business as well after dropping a first-round series in the post-season last year to the Oil Kings.
"I've said to multiple guys in that room," Plouffe said. "It's something I would never, ever take for granted.
"It was the funnest time of my life last year during that playoff run, and I want to do everything in my power to help these guys get there. It's something you'll never forget and I loved every minute of it last year."
Tigers Tales…James Hamblin will play his 300th WHL game Tuesday night in Brandon. The Tigers captain has collected 23 goals and 36 assists for 59 points in 38 games and is tied for the WHL scoring lead with Adam Beckman (29-30; 59) of the Spokane Chiefs…Tigers d-man Parker Gavlas played in his 100th WHL game Saturday, an 8-5 home-ice win over the Seattle Thunderbirds…The Tigers continue to run the top power play in the WHL, converting on 27.6% of its opportunities…Ryan Chyzowski leads the league with 11 power play goals, one more than Beckman…Cole Sillinger leads the league in scoring by rookies with 13 goals and 25 assists in 33 games, good for a seven-point lead over Dylan Guenther of the Oli Kings…If you have become weary of hearing players and coaches alike say "get pucks to the net", consider this: the Tigers are the top-scoring team in the league with an average of 4.19 goals per night, while also leading the league with 1,454 shots on goal. Kamloops is next at 3.89 goals per game and a total of 1,424 shots on goal…Medicine Hat has played 18 home games this season, attracting an average crowd of 2,981. The Tigers have 16 home regular-season games remaining.
Tigers Remaining Games vs Central Division (14)
vs Edmonton: Home 1; Away 2.
vs Lethbridge: Home 2; Away 1.
vs Calgary: Home 1.
vs Red Deer: Home 1; Away 1.
vs Swift Current: Home 3; Away 2.
Tigers Record By Division
vs Central Division: 11-7-1-1
vs East Division: 9-1
vs BC Division: 3-2
vs US Division: 1-0